Alden may be only six, but he alreaAldendy wants to give back to kids who are less fortunate than himself. He knows first-hand how amazing the care at Shriners Hospitals for Children — Boston is.
Last January, Alden became a patient at the hospital after sustaining a serious hand burn. He and his family live in Northern Vermont, and they have a small chicken coop in their backyard. In the cold winter months they use a de-icing device to stop the animals' water from freezing. One frigid day, Alden and his siblings went out to fill the water for the chickens and Alden touched the coil on the heating device. The equipment was both hot and wet, while the temperature in the coop was below freezing. This caused Alden's hand to stick to the device, deepening the burn before he was able to free his hand.
His parents, Samantha and Craig, sought local medical attention for Alden, where he was treated with cream and bandages and told it would heal in a week or so. They followed up with Alden's pediatrician, who referred them to a larger hospital, and again they were told to wait and give the burn time to heal. But Alden's hand remained raw and bloody and was getting worse instead of better. Samantha's father, who had been a Shriner, told the family they needed to get to Shriners Hospitals for Children — Boston to receive proper treatment for Alden's terrible burn.
From that first appointment and through two surgeries, the family's experience at the Boston Shriners Hospital has been outstanding, recalls Samantha. "We have never been anything but completely amazed with the love and understanding of all the staff at Shriners. I have only great things to say about everyone we have encountered. There are really too many favorites to list, but Nurse Jeannie from the clinic was incredible and checked in on Alden regularly. Dr. Sheridan was just wonderful at explaining everything to us and keeping us calm."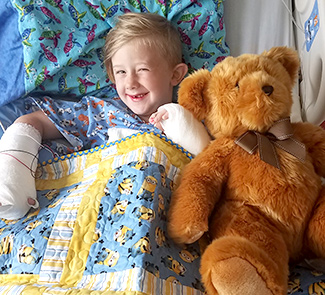 During one of his stays, Alden saw the pull tab collection bin by the cafeteria and his parents explained that the tabs are turned in for money which is then used to buy items that help the patients. Alden knew that his grandfather, Papa, had a gallon-sized bag of tabs at home, and he wanted to bring his Papa's bag in to see if he could fill the bin at the hospital. Back at home, Alden started to collect as many tabs as possible so he could bring them back at each visit. Samantha took pictures of him emptying his tabs into the bin and posted them on social media. Soon a number of people reached out and said they had tabs but had no way to get them to the hospital. From there, the local newspaper published a story about Alden's burn and tabs started rolling in! He put a collection can up at his Gram's food booth at the local fair so he could collect even more tabs. Alden was very excited the first time he had enough tabs to completely fill the bin by the cafeteria and still have leftovers.
Alden has seen many children at the hospital and he wants to assist others the same way he has been helped. He continues to look for cans everywhere, knowing that those tabs can help the other kids. The tabs may be tiny, but Alden's heart is big and his spirit of giving back is truly inspiring.
When he is not collecting tabs or enjoying his kindergarten class, Alden loves to be outside riding his four wheeler and playing baseball. He is a huge Boston Red Sox fan, and loves to spend time with his older brother and sister and his younger sister.
When asked if there was anything else she wanted to share, Alden's mom said simply, "We LOVE the Boston Shriners Hospital!"